Superfood Cannoli
made with purple sweet potatoes and Spero cinnamon cream cheese. drizzled with dark chocolate.
1 medium purple sweet potato (or any sweet potato; our other favorites are Hannah and Japanese)
¼-1 bar of your favorite dark, organic chocolate
2 tbsp vanilla plant milk (optional)
⅓ cup Spero Cinnamon Cream Cheese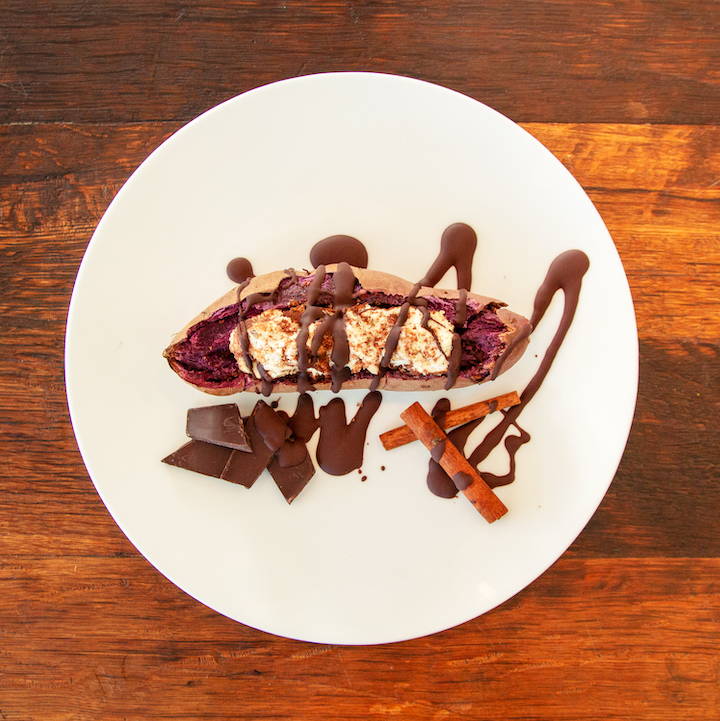 Turn oven to 415ºF
Wash the sweet potato and cut a few slits into it. Roast for 35-50 minutes, or until the sweet potato can easily be poked through with a fork-- even better if it's oozing sap #drool. Remove sweet potato from oven and let cool for 20 minutes.
Optionally, with fork, mix Spero Cinnamon Cream Cheese with a couple tablespoons of delicious plant milk (for a wetter consistency)
Slice open your baked sweet pot and spoon in the Spero Cinnamon Cream Cheese. Stuff it well.
Microwave chocolate in a ceramic cup or bowl for ~30-60 seconds, or until it is melted. Be careful not to over cook it as it will burn.
Take spoon and drizzle chocolate over your stuffed sweet pot.
Enjoy!