Spiced Mousse
sweet, creamy, delectable little mousse cups layered with fresh berries.
prep time: 30 minutes. serves 2.
14 oz can of coconut cream
1/4 cup powdered sugar*
1 teaspoon vanilla extract
1 tub Spero Cinnamon cream cheese
1/2 cup strawberries (diced)
1/2 cup blueberries
1 kiwi (diced, optional)
1/4 cup mango pulp (optional topping, or substitute your favorite fruit)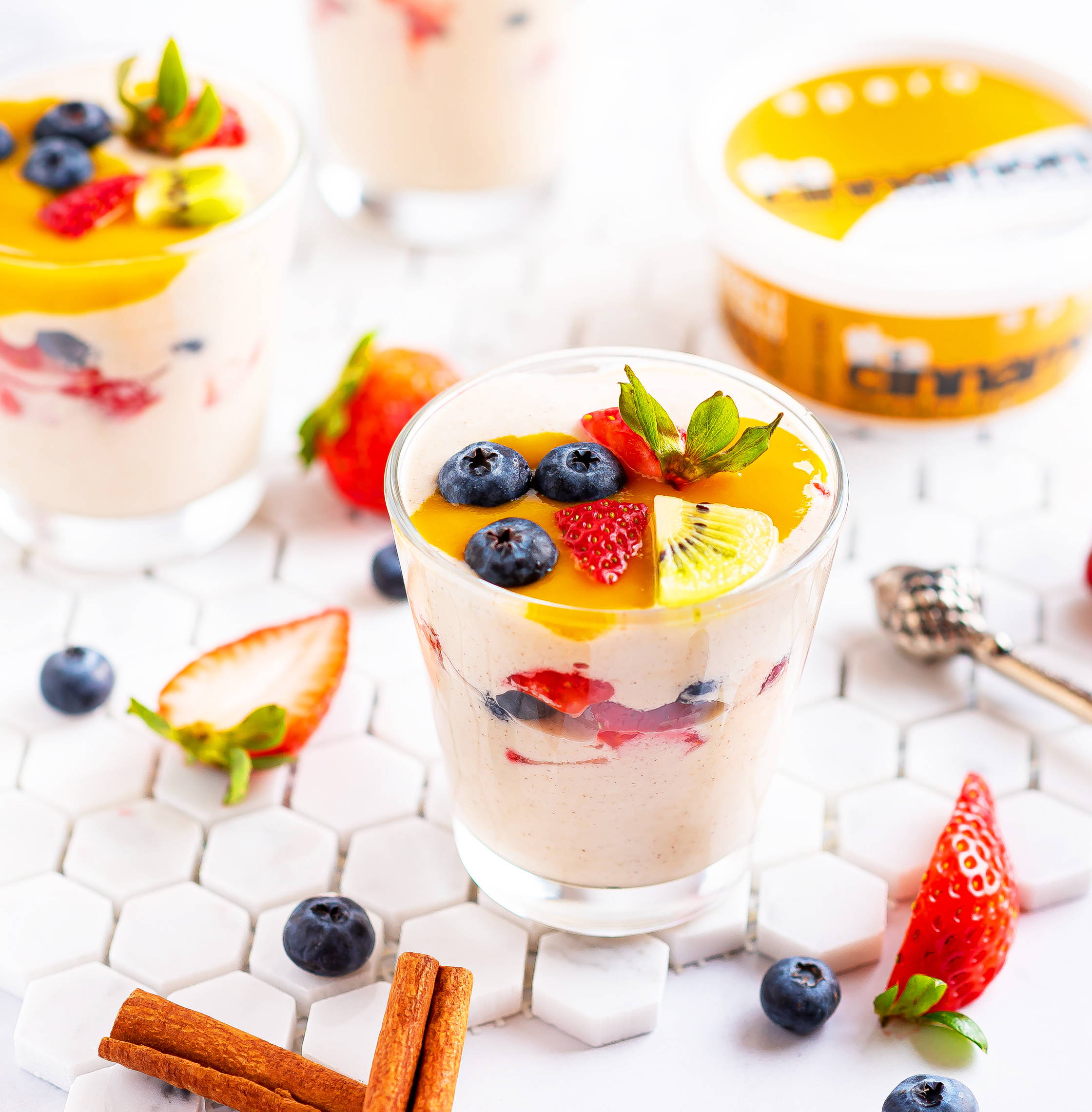 In a high speed blender, combine oat milk, flax seed, chia seed, cinnamon, maple syrup, and vanilla extract. Process until smooth. Transfer to a shallow bowl.
Heat a greased griddle over medium heat. Dip bread into oat milk batter to coat both sides, allowing excess to drip away. Transfer bread to hot pan. Cook 2-3 minutes per side, until golden. Work in batches to avoid overcrowding.In a small bowl, blend one tub of Spero Cinnamon cream cheese with hand mixer to make it extra creamy.
In a large bowl, add coconut cream. Save the liquid part for later use. Using hand mixer, blend coconut cream until frothy.
Add powdered sugar and vanilla extract to the coconut cream and blend it again, add 2 teaspoons of liquid saved from coconut cream can.
Now the coconut cream is frothy and creamy in consistency.
Using a silicone spatula, fold in the softened Spero cinnamon cream cheese to the coconut cream mixture little at a time. Mix it gently to maintain a creamy & frothy texture.
Once fully combined, let the mousse sit in refrigerator for 30 minutes.
In a glass cup, layer the cream cheese mousse until halfway full. Then add 2 teaspoons each of diced strawberries and blueberries, and fill the glass with a second layer of cream cheese mousse.
Top with a tablespoon of mango pulp, strawberries, blueberries, and kiwi. Serve chilled.
*NOTE: You may choose to reduce the amount of sugar added, since Spero cinnamon cream cheese is already sweetened with agave.
Enjoy!