Pumpkin Spice Donuts
filled with cinnamon cream cheese frosting
3 ¾ cup whole wheat pastry flour (plus more for dusting)
1 pkg instant yeast (9g)
1 tsp salt
1 Tbsp pumpkin spice
1 ½ cup unsweetened oat milk
¼ cup pure maple syrup
2 Tbsp pumpkin puree
1 tsp vanilla extract
¼ cup coconut oil
¾ cup Spero Original Cream Cheese
1 tsp pumpkin spice
2 Tbsp pure maple syrup
1 Tbsp pumpkin puree
⅓ cup Spero Cinnamon Agave Cream Cheese
2 Tbsp unsweetened oat milk
2 Tbsp pure maple syrup
1 tsp pure vanilla extract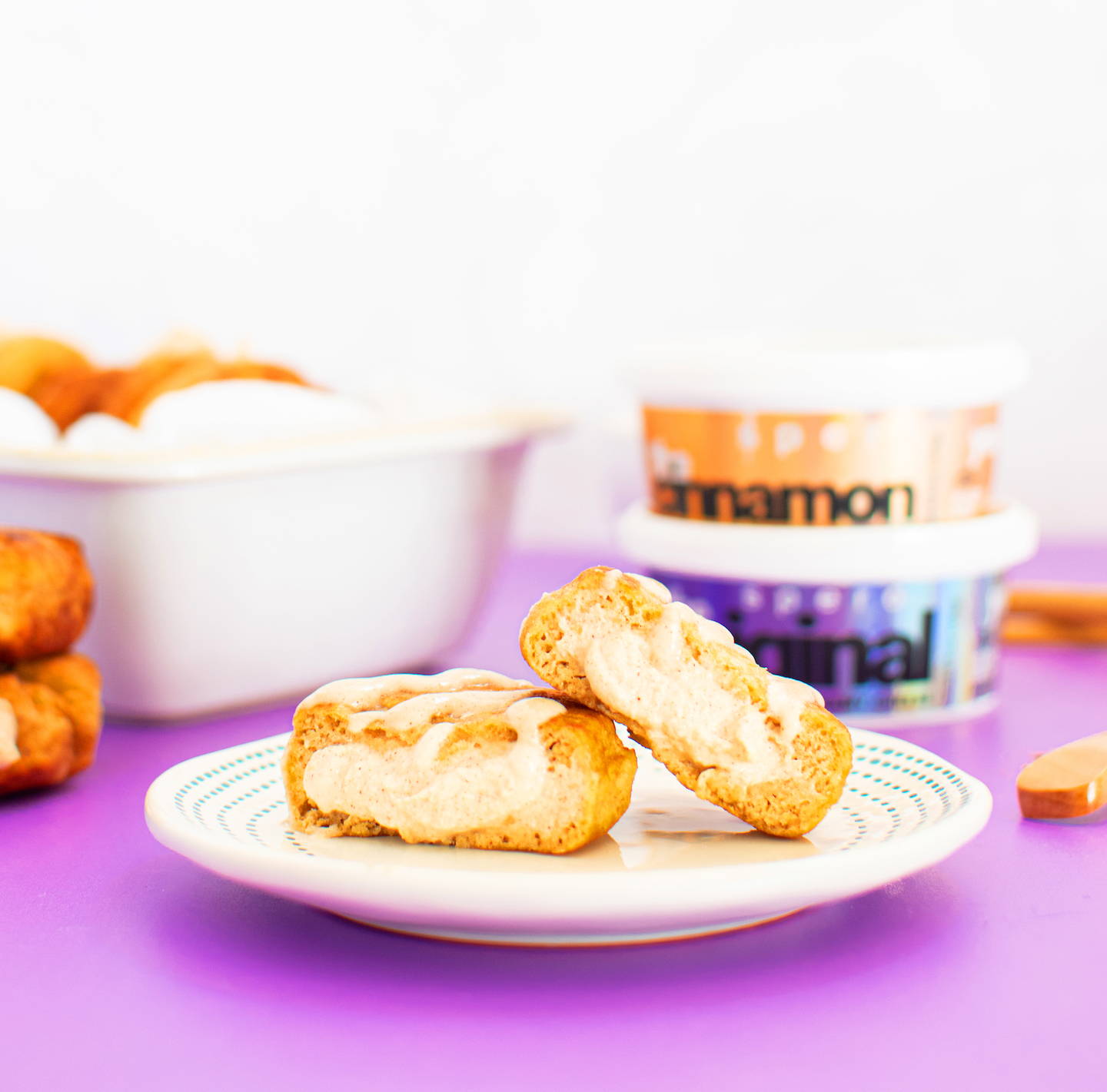 In a large bowl, whisk flour, yeast, salt, and pumpkin spice. Set aside.
In a small pot, combine oat milk, maple syrup, pumpkin puree, and vanilla extract over medium-low and whisk to combine. Heat 2 minutes, until just warm.
Add oat milk mixture to flour mixture. Stir with a rubber spatula until just combined. Do not over mix.
Grease a large mixing bowl. Transfer dough to greased mixing bowl. Cover with a clean towel. Set aside in a warm place for 1 hour 30 minutes to rise.
Sprinkle extra flour on clean surface. Turn dough onto floured surface. Gently roll with a rolling pin to about ½ inch thickness.
Using a 3-inch biscuit cutter, cut dough into 12 donuts. If needed, gather excess dough, re-roll, and cut again.
In a skillet, heat coconut oil over medium-high. Line a plate with paper towels.
Add donuts to hot pan and cook 30-60 seconds per side, until golden and fluffy. Work in batches to avoid overcrowding. Remove to paper towel-lined plate.
In a medium mixing bowl, whisk Spero Original Cream Cheese with pumpkin spice, maple syrup, and pumpkin puree until smooth. Transfer to a piping bag with a long narrow filling tip.
Use a chopstick to poke a hole in the side of each donut and gently move it from side to side to make room for the filling. Place filling tip into each whole and carefully pipe in filling while slowly pulling tip out.
In a large mixing bowl, whisk Spero Cinnamon Agave Cream Cheese, oat milk, maple syrup, and vanilla extract until combined. If mixture is too thick, add 1 tsp oat milk as needed to loosen.
Drizzle over top of donuts.
Enjoy!