Mixed Berry Stuffed Pop Tarts
mixed berry stuffed pop tarts
colorful, fruity, & stuffed with creamy Spero filling.
serves 6.
1 ¼ cup whole wheat pastry flour
1 Tbsp maple sugar
½ tsp salt
½ cup coconut oil, cold
½ cup ice cold water
⅓ cup Spero Original Cream Cheese
½ cup mixed berries, pureed
2 Tbsp maple syrup
3 Tbsp Spero Original Cream Cheese
3 Tbsp coconut oil, liquid
1 Tbsp maple syrup
2 Tbsp mixed berries, pureed
¼ cup natural vegan sprinkles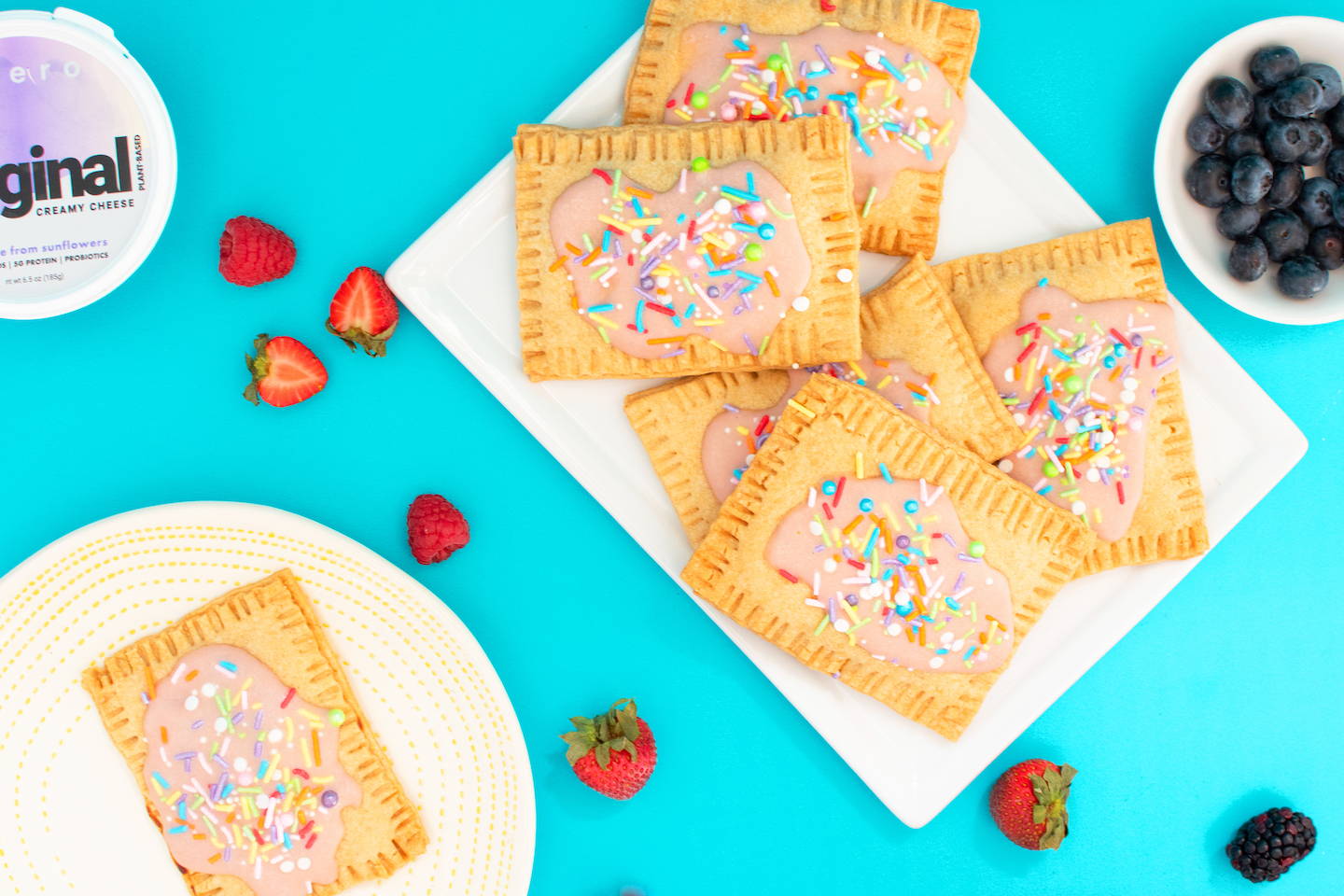 In a food processor, combine flour, maple sugar, and salt. Pulse a few times to incorporate.
Add cold coconut oil and pulse 4-6 times, until crumbly.
Add ¼ cup ice cold water and pulse to combine. Continue to add ice water 1 Tablespoon at a time until dough begins to come together in a ball.
Lay out a large sheet of parchment paper. Turn dough out onto parchment paper. Form dough into a rectangle. Place another piece of parchment paper on op and slightly flatten dough. Transfer to refrigerator for 10 minutes.
In a large mixing bowl, whisk Spero Original Cream Cheese with pureed berries and maple syrup until combined.
Preheat oven to 375F. Line a baking sheet with parchment paper. Set aside.
Remove dough from refrigerator. Use a rolling pin to roll dough is a 8-inch by 12-inch rectangle, about ⅛-inch thick. Use a knife to slice into twelve 3-inch by 4-inch rectangles.
Carefully transfer 6 dough rectangles to the prepared baking sheet. Scoop 1 Tablespoon filing into the center of each of the 6 dough rectangles then top with the remaining 6 dough rectangles. Crimp the perimeter of each pastry with a fork to seal.
Transfer baking sheet to oven and bake 30-35 minutes, until golden. Remove from oven and cool 20 minutes.
In a bowl, whisk Spero Original, coconut oil, maple syrup, and pureed mixed berries. Drizzle about 1 Tbsp over top of each pastry.
Top with sprinkles.
Enjoy!