Kale & Tomato White Pizza
kale & tomato white pizza
crisp focaccia pizza loaded with creamy cheese & veggies
2.5 cups unbleached bread flour or all purpose flour
1 teaspoons sea salt
1 teaspoon instant yeast
3 tablespoons olive oil
1 cup water, room temperature
1 container of Spero Smoked Cream Cheese
1 bunch kale, stemmed
12 cherry tomatoes, halver
3 sundried tomatoes, thinly sliced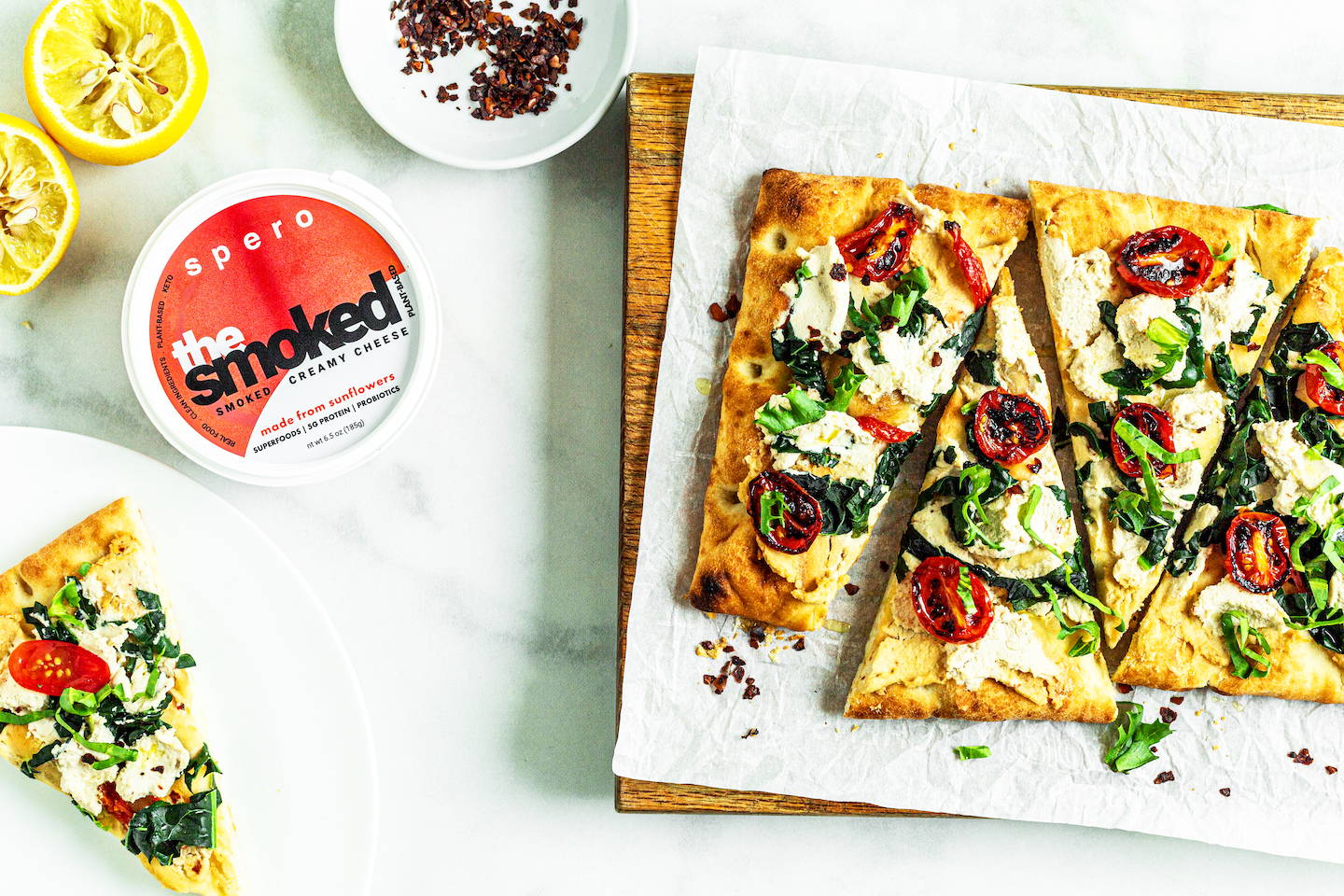 Stir together flour, salt and yeast in a large mixing bowl. Add the water and oil and mix with the dry ingredients until a wet sticky ball is formed. (You can mix this in a stand mixer if you want with a paddle attachment.)
Turn the shaggy dough out onto a floured surface and sprinkle a little more flour on top so you can handle the dough. Pick it up and fold the dough in half. Turn the ball 90 degrees and fold again. Continue this process for about 10 minutes or until the dough has become smooth and elastic. If you have an electric stand mixer, you can use that with a dough hook to knead the dough for 10 minutes.
When you are done kneading, form the dough into a ball and place it in a large oiled mixing bowl. Cover with a towel or plastic wrap and leave out on your counter for 2-3 hours. The dough should have doubled in size. Punch the dough down and form it into 2 balls and put them back in the oiled mixing bowl. Cover again and allow to rest 1 hour.
Place each ball into the center of a small oiled sheet pan. Using the flat part of your hand, stretch out the dough as far as possible to about ¼"-½" thickness. Cover with a towel or plastic wrap and allow to rest for about 1 hour.
Pre-heat the oven to 450°F and place the sheet pans on the middle rack. Bake for 8-10 minutes, turning the pan once in the middle of the baking time. Remove from the oven and spread some of the Spero Smoked Cream Cheese onto the crust. Top with some of the kale, chopped tomato and sundried tomato. Cook for another 5-6 minutes or until the pizza is done. Top with more cheese if desired at the end and some lemon zest for a citrusy punch!
Enjoy!