Goat Cheese Stuffed Mushrooms
goat cheese stuffed mushrooms
The most delectable little mushroom bites. Of your LIFE. Truly.
4 Tablespoons of Spero Goat Cheese
8 oz Champion Mushrooms
1 Teaspoon Canola Oil
½ Yellow Onion
2 Cloves Garlic
Pepper
Salt
Paprika
Herbs (garnish)
3-4 Tablespoons Water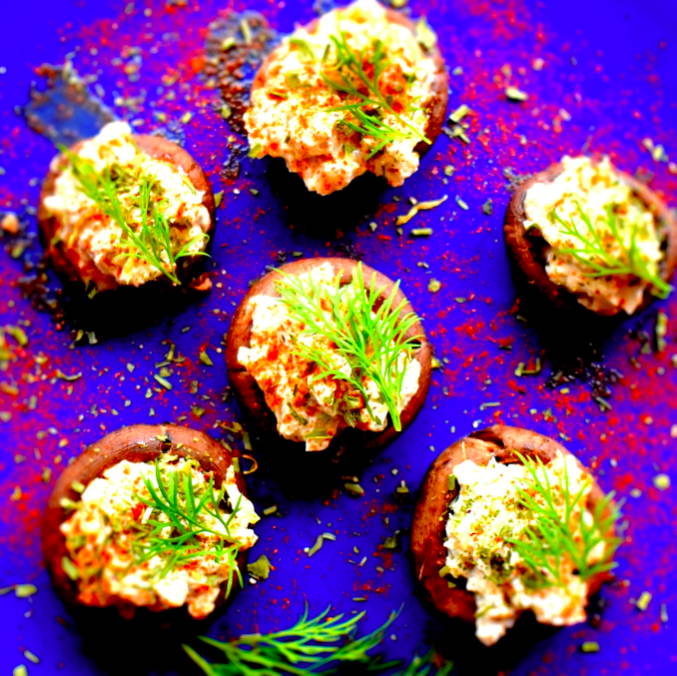 Prepare the champion mushrooms. Using your thumbs, press out the stem of the mushroom to make a fillable center. Add a small amount of oil to the bottom and sides of the mushrooms.
With open side up, place in 400F oven for 10 minutes. The mushrooms should only get a little soft and toasted.
Mince the onion and garlic. Sauté in pan with oil, until soft. Add pepper to taste (wait to add salt until very end). Turn off stove.
Add the Spero Goat Cheese to the sautéed onion and garlic. Add water and blend all ingredients well with a fork or whisk. If mixture is too firm, add small amounts of water until desired consistency is reached.
Taste test your filling! As cheese already contains salt, it is good to sample prior to adding the personally desired salt quantity. Add desired salt and blend ingredients well.
Using a spoon, fill the mushrooms with the filling.
Sprinkle tops with smoked paprika or dried or fresh herbs.
Enjoy!