Creamy Sundried Tomato Pasta
creamy sundried tomato pasta
creamy, savory, delicious!
1 box of Banza Pasta (we used Rigatoni)
½ - ¾ tub Spero Original Cream Cheese
¼ cup finely chopped sundried tomatoes
1 Onion
3 Cloves of Garlic
½ cup of Water
Oil (optional)
12 oz Cherry Tomatoes
Salt
Pepper
Fresh Basil (optional)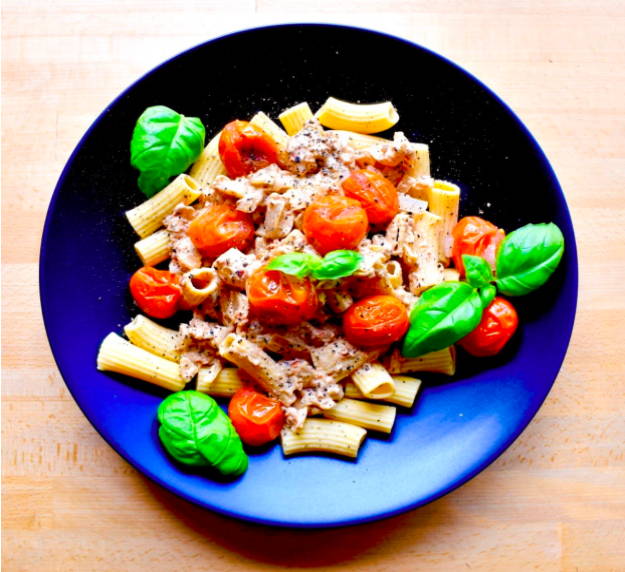 Mince garlic and onions. Sauté in a non-stick pan with a small amount of oil (if needed).
Once onions are translucent, add whole, cherry tomatoes into the pan and cover. Turn heat down to low. Allow for tomatoes to become soft (only until skin wrinkles).
Using a spoon, carefully lift tomatoes out of the pan and set to the side.
Boil water and cook pasta according to instructions on packaging.
Use one tub of Spero Original Cream Cheese and add to onions and garlic in the pan. Turn heat to low.
Use a spatula to evenly blend cheese with onions, garlic, sundried tomatoes, and ½ cup of water (add more water if desired).
Drain pasta once done cooking.
Transfer finished pasta into pan that contains the sundried tomato sauce. Mix pasta and sauce until all noodles are covered evenly.
Garnish with the cooked cherry tomatoes, fresh basil, pepper, and salt.
Enjoy!