Chocolate Cheesecake
chocolatey, creamy, cheesy goodness!
prep time: 20 minutes. cook time: 15 minutes.
serves 3.
3/4 cup pecans
3/4 cup dates
2 teaspoon coconut oil
1 1/2 tubs Spero cream cheese (recommended: Original)
1/2 cup agave syrup
1 cup oat milk (or your favorite plant milk)
1 tablespoon agar powder
1 teaspoon vanilla extract
1 tablespoon lemon juice
2 tablespoon cocoa powder
1/2 cup Whipped cream
2 tablespoon vegan chocolate shavings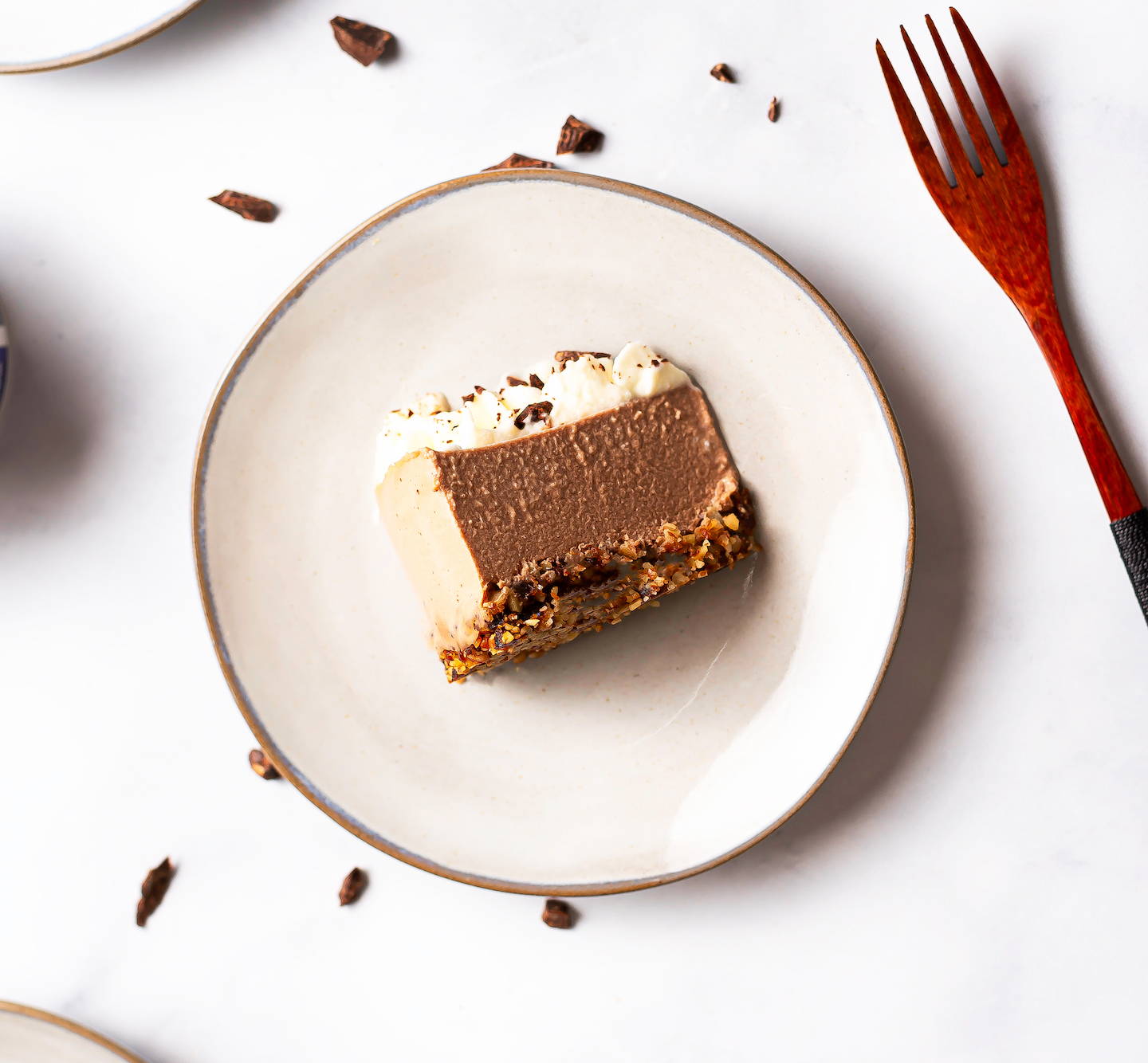 Pre-heat the oven to 350ºF
Add pecans, dates and coconut oil to a food processor and blend until small bits remain and it forms into a ball. Remove and set aside.
Cut out parchment paper into round shape for the cheesecake base to make removing the cheesecakes easier.
Place pecan & date crust to the 6 inch spring-form pan and carefully press with fingers to distribute. To pack it down, use a small glass or the back of a spoon to and really press it down, allowing some crust to come up the sides.
Bake the vegan crust for about 10 minutes. Then remove from oven and keep aside.
In a small saucepan over medium-high heat, combine the 1 cup oat milk, cocoa powder, agave syrup and agar powder and bring to a boil while whisking. When it comes to a boil, bring the heat down to low and allow to simmer for 2 minutes while you whisk. Remove from heat.
In a separate bowl, add Spero cream cheese and mix it using a spoon. Add the prepared oat milk agar mixture little by little to the cream cheese. Once mixing all the oat milk agar mixture to the cream cheese, pour this mixture over pre-baked crust.
Gently tap the spring-form pan over the counter to remove bubbles inside cheesecake mixture. Set the pan aside on the counter to cool for 20 minutes uncovered before covering the pan with foil and placing in the refrigerator to chill for 6 hours or overnight.
When it has chilled, run a knife along to edge to loosen the cheesecake and remove from the spring-form pan. Layer the top of the cake with whipped cream and vegan chocolate shavings.
Enjoy!