Butternut Squash Tacos
tacos stuffed with pumpkin al pastor
serves 2.
1 1/2 lbs tomatillos
1/2 cup onions, minced
2 cloves garlic
1/2 cup cilantro leaves
1 tablespoon lime juice
1 serrano chile
Salt and pepper to taste
PUMPKIN AL PASTOR FILLING
6 cups pumpkin flesh, peeled and cut into 1/2" cubes
1 teaspoon sea salt
1/4 teaspoon black pepper
2 tablespoon taco seasoning
2 tablespoons olive oil
3 tablespoons Spero Original Cream Cheese
Juice of 1 lime
1/4 teaspoon sea salt
6-8 4" corn tortillas
1 15oz can of black beans, drained
1 avocado, cut into slices
6-8 sprigs of cilantro
1/4 cup purple cabbage, thinly sliced
1 lime cut into wedges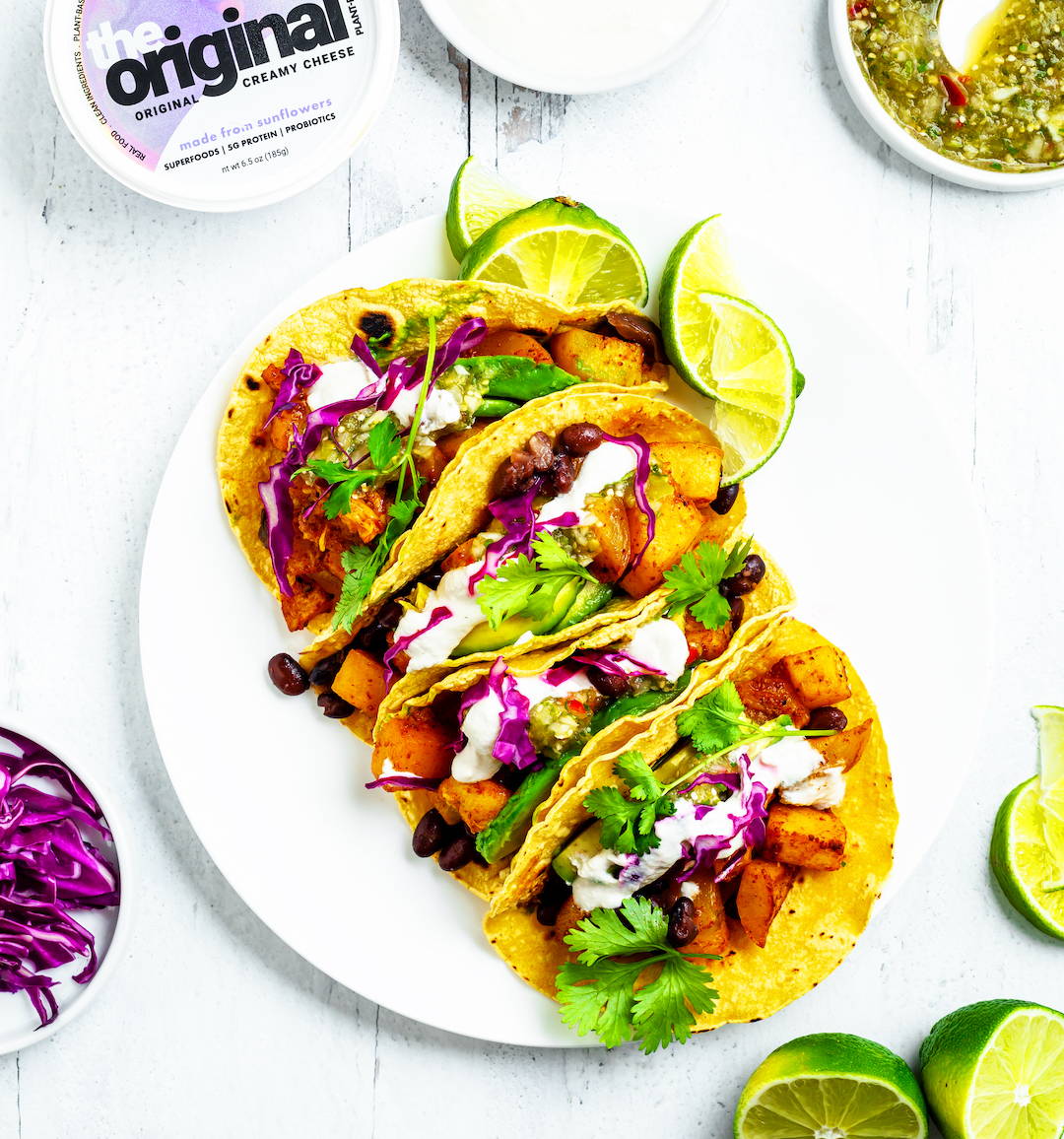 Bring a pot of water to a boil. Peel the papery tomatillo skins from the outside of the tomatillo. Put the tomatillos into the pot and boil for 5 minutes. Remove from the water when they are boiled and transfer to a food processor along with the rest of the salsa ingredients. Process until the salsa is chunky and well combined.
Preheat the oven to 400°F. Toss the cut butternut squash flesh with the sea salt, black pepper, taco seasoning, and olive oil until well combined. Spread the butternut squash onto a sheet pan and roast for 20 minutes or until browned and tender.
To make the lime crema, in a small bowl mix the Spero Original Cream Cheese, lime juice and sea salt. Stir until well combined. Set aside until ready to use.
To prepare the tortillas, heat a skillet over medium heat and place the tortillas in the skillet until lightly cooked on both sides. Wrap the cooked tortillas in a clean cloth while you finish warming the rest of the tortillas
To build the tacos, take a tortilla and add a little bit of the black beans, the butternut squash filling and a few slices of avocado. Garnish each taco with some lime crema, tomatillo salsa, cilantro, and purple cabbage. Serve with fresh lime.
Enjoy!