Beet Ravioli
clouds of creamy cheese stuffed in beet ravioli with pesto
2 containers of Spero The Goat sunflower cheese
¼ cup chopped basil or parsley
1 1/4 cup all purpose flour
1 cup semolina flour
1/2 teaspoon salt
1/2 cup water
1/4 cup beet juice
2 teaspoons extra virgin olive oil
PARSLEY AND PUMPKIN SEED PESTO
1/2 cup pumpkin seeds
2 cups Italian parsley
Juice of 1 lemon
2 garlic cloves
1/2 cup extra virgin olive oil
1 tablespoon nutritional yeast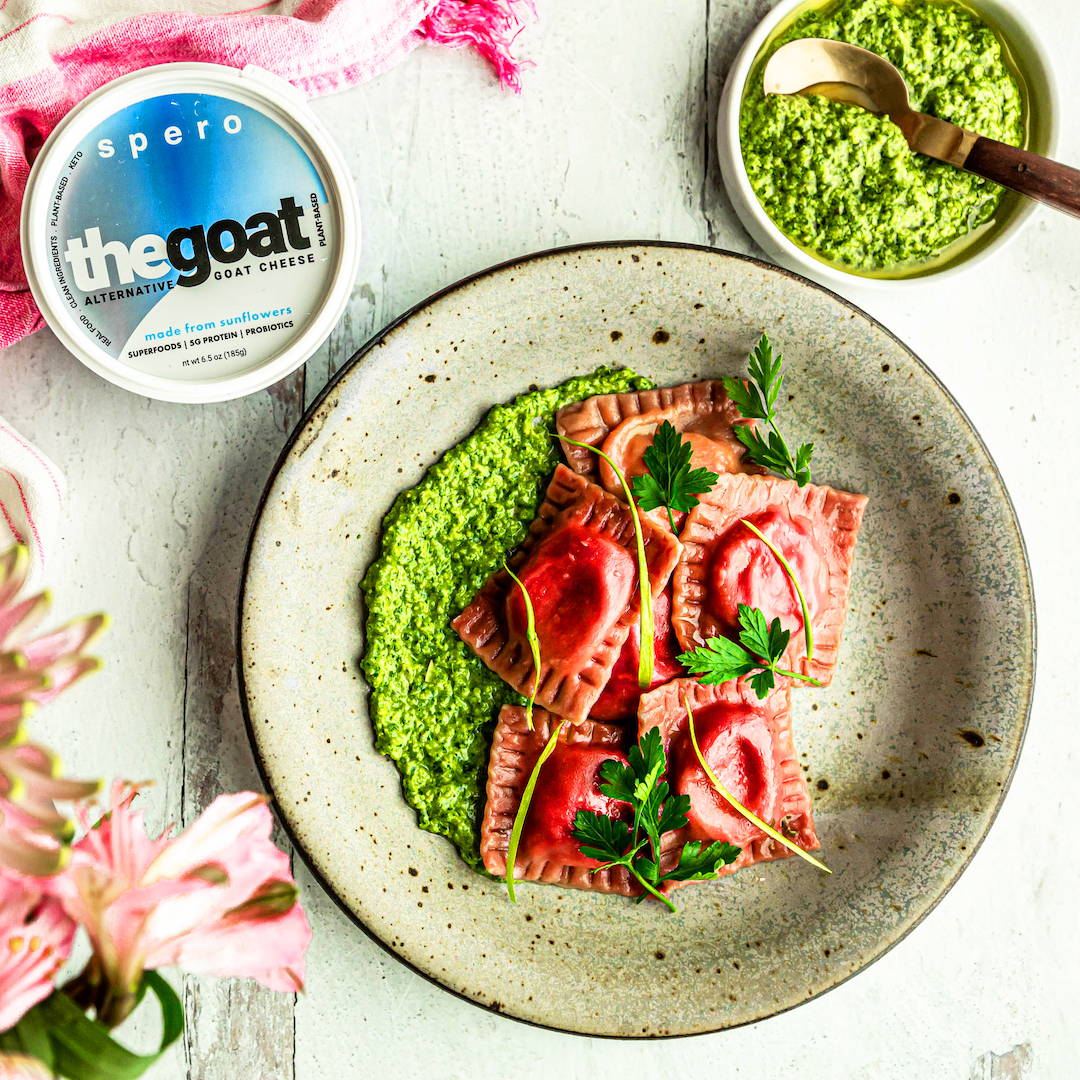 Place Spero cream cheese (we used Goat, also try Original or Smoked) in a mixing bowl and add the chopped herbs (basil or parsley).
Mix well and then set aside until ready to use.
Mix all the ingredients together in a mixing bowl and combine until a dough is formed.
Turn out onto a floured surface and knead the pasta dough for 5-8 minutes until smooth and elastic. After the dough is kneaded, place in a bowl and cover with a towel and put in the refrigerator for 30 minutes to 1 hour to rest.
After the dough has rested, divide it into 4 equal portions and roll each section out on the floured surface with a rolling pin until each section is about 18" x 4".
On one of the sheets, place dollops of the Goat cheese down the length of the pasta dough spaced evenly. Brush a little water around the cheese center and then gently place a second sheet of the pasta dough over the sheet with the cheese. Press gently around each ravioli to help push out the air and seal the ravioli.
Use a ravioli stamp or a cutter to carefully cut out the raviolis. Place on a floured surface while you finish making the rest of the raviolis. Take a fork and press the edges of the ravioli together to finish sealing them. Makes 24 raviolis.
Bring a pot of salted water to a boil and place the finished raviolis in the pot. Turn down the heat to low and cook for 8 minutes. Do not cook in a rolling boil as these are more delicate than ravioli made with egg. Handle with care.
Drain and drizzle lightly with oil to prevent sticking.
Place all the ingredients in a food processor and purée until smooth.
To heat up before serving, place the pesto in a small sauté pan or saucepan with a little water and gently heat.
Divide the raviolis into bowls or plates as desired. Spoon some of the warm pesto over the ravioli.
Garnish with parsley, sea salt and black pepper.
Enjoy!